Nothing terribly exciting for you today, and I'm not quite sure why. This polish is very pretty. From what I gather, this is new to the Wet 'N Wild lineup, and best of all? It costs a whopping 99 cents. It's much prettier than my pictures will show. It also wore fairly well, but I did get some tipwear pretty quickly which is unusual for me. Not sure if that was me or the polish though, hard to tell. It's a sheer black loaded with purple glitter. Yay! These pictures fail to capture the sparkliness of it all. I don't k now why I'm not so enthused about it, but I think that's me and not the polish talking...
I guess, for once, I don't have much to comment on here... this polish was spot on and I can't complain on any front.
2 coats.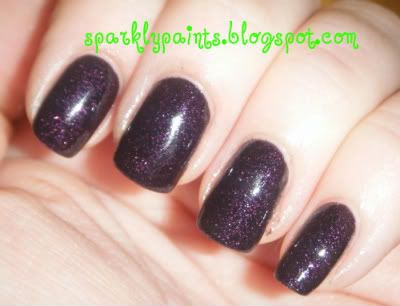 Very worth the investment. From the Wild Shine group, I also grabbed Blue Moon and Sunny Side Up recently, and I can't wait to try them, so I'm sure they'll be featured in posts pretty soon. Thanks for looking!