Here are two of the new, limited edition, Spring Maybellines for you. There's seven (I think?) in total, and so far the hardest for me to find was Goody Plum Drop, which I passed on twice initially, and was impossible to find once I wanted it (which I did, finally). I really like these, color-wise. Minty isn't terribly unique but I grabbed it anyway, being somewhat inexplicably partial to both pastels and the color mint. I don't dress in pastels or wear them in any form, but on my nails I do enjoy them. Pie In The Sky is pretty unique, I think. A nice cornflower blue pastel, not a baby blue. So the formula? Let me begin by saying that these are not for amateurs or those faint of heart. If you balk at a difficult polish, stay far, far away. These are lumpy, bumpy and a bit gloppy. Thinner helps... sort of. The second coat, plus a nice hefty coat of Seche Vite help even things out, if you get that far. I've also heard that some of these have terrible brushes---I didn't feel that way about mine, they were OK. Since there's a plethora of pastels out right now, I decided to sort of do skittles with this one... by which I mean I alternated Minty and Pie in the Sky (Goody Plum Drop was still MIA to me when I did this manicure).
This is 2 coats for each color. You may note that I finally decided to stop being lazy and reinstated the watermark: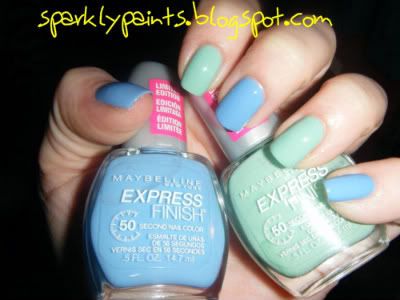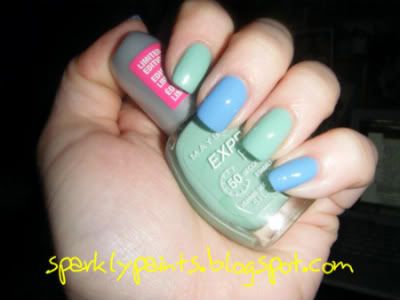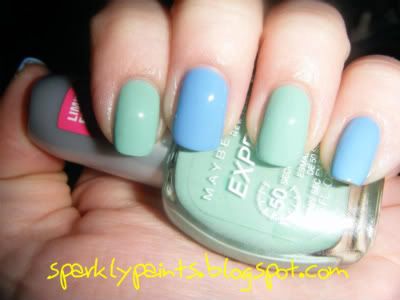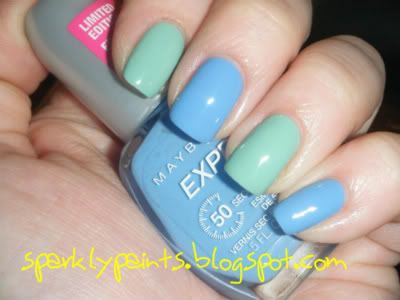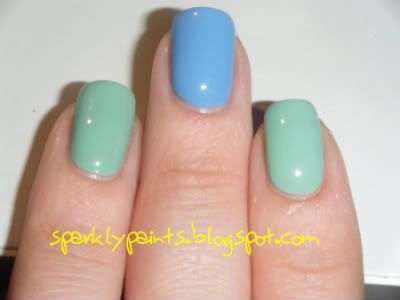 There was a lot of clean-up involved.
And, since I feel that creme polishes are the perfect base for Konad, I added a little something from plate M76, which is one of the newer ones. I think they've started to make the lines wider and more deeply engraved for the line-based designs on the new plates, because I found this VERY easy to work with and place. No problems with the lines breaking or not picking up at all.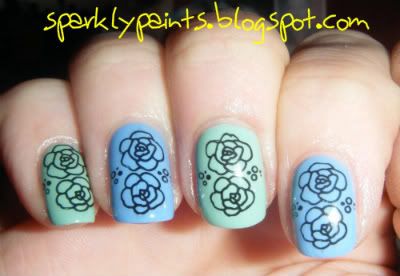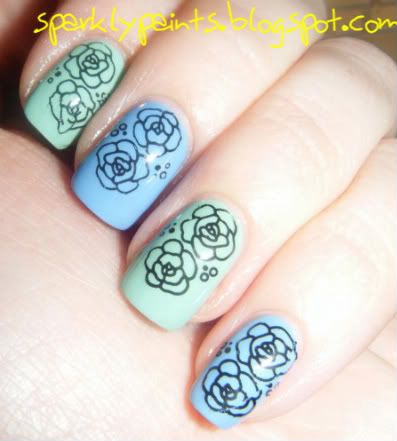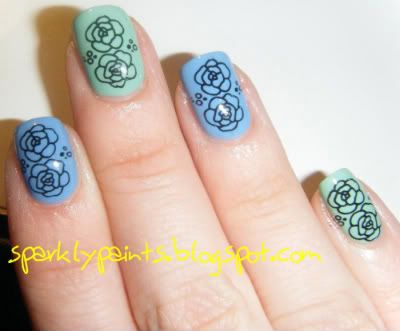 I like it. Delicate, flowery, but not overly girly in Konad Black Special Polish.
Can you tell I'm from the Northeast and currently being blanketed and re-blanketed with snow? I'm craving Spring colors.
Thanks for looking!